Amber L. Hollibaugh is an American writer, filmmaker and political activist, largely concerned with feminist and sexual agendas. She is a self-described lesbian sex radical, ex-hooker, incest survivor, gypsy child, poor-white-trash, high femme dyke. She is also an award-winning filmmaker, feminist, Left political organizer, public speaker, and journalist. Her first book, My Dangerous Desires, presents over twenty years of Hollibaugh's writing, an introduction written especially for this book, and five new essays including "A Queer Girl Dreaming Her Way Home," "My Dangerous Desires," and "Sexuality, Labor, and the New Trade Unionism." Amber Hollibaugh is currently a Senior Activist Fellow at the Barnard Center for Research on Women where she directs the Queer Survival Economies project.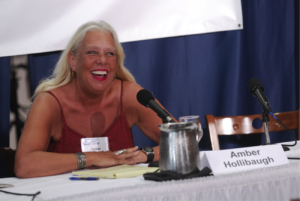 Hollibaugh is the former Chief Officer of Elder & LBTI Women's Services at Howard Brown Health Center in Chicago and the former Executive Director of New York's Queers for Economic Justice (QEJ). She has been director of education, advocacy and community building at Services & Advocacy for GLBT Elders (SAGE), a New York program dedicated to lesbian, gay, bisexual, and transgender senior education, advocacy, and community organizing. Among her health education work, she founded and directed the Lesbian AIDS Project at Gay Men's Health Crisis in New York, for which she won the Dr. Susan M. Love Award for Achievement in Women's Health.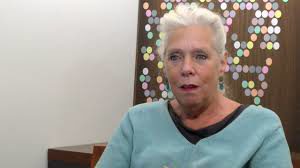 Hollibaugh was the director and co-producer with Gini Reticker of The Heart of the Matter, a 60-minute documentary film about the confusing messages women students receive about sexuality and sexually transmitted diseases such as AIDS. The film won the 1994 Sundance Film Festival Freedom of Expression Award; it premiered to a national audience on PBS.
In 1970, Hollibaugh was a leader in the Canadian movement for abortion rights. In 1978, she was a co-founder with Allan Bérubé and others of the San Francisco Lesbian and Gay History Project. In 1982, she was a speaker at the 1982 Barnard Conference on Sexuality, a key event in what became known as the Feminist Sex Wars. Hollibaugh has written on the marginalization she experienced afterwards as a result of being a former sex worker and her involvement in the sadomasochism community. She has also written for, among others, The Nation, Socialist Review, NY Native, and the Village Voice.
In Hollibaugh's writings on sexuality, she has declared that "there is no human hope without the promise of ecstasy."